Lots of things have been happening around here. First of which, OUR HOUSE!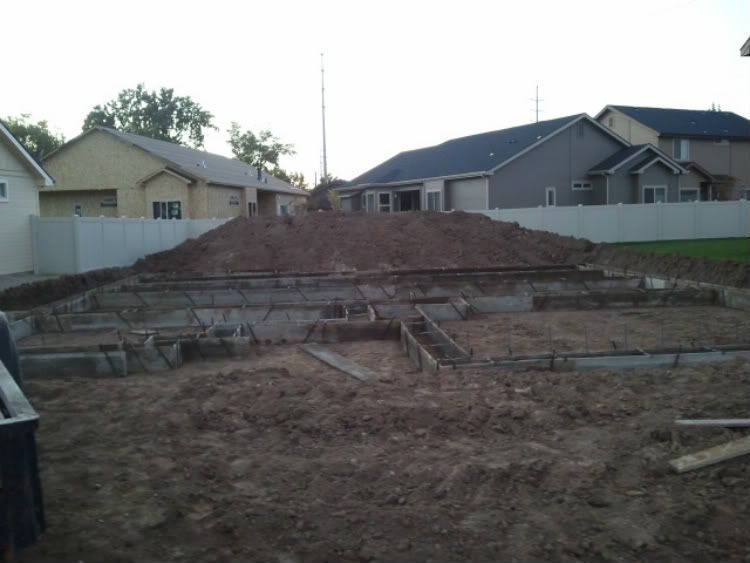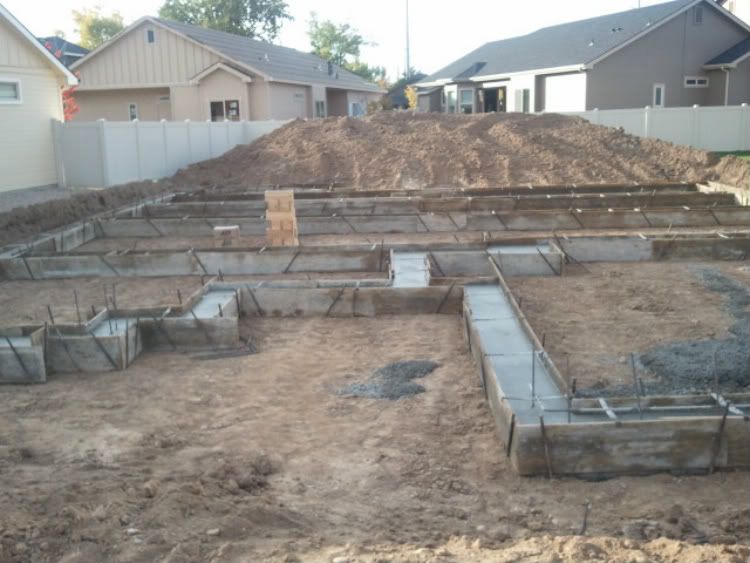 It's kind of way exciting, right? These builders are kicking some serious butt. Our estimated completion date is December 21, 2011- 60 days from when they started. We're so excited, love our builder (he used to be Chad's bishop), and feel really good about our decision to build! We've been getting a lot of people asking us why we feel like building is what we should be doing as opposed to buying. We looked for a while to buy and just never felt right about any of the houses we looked at. There were a few that stood out, and we could see ourselves living in, but we didn't feel 100% sure about it. Then we met with Stan, our builder, about potentially building. We originally were just seeing if he knew of any lots available, but as we got to talking, we both felt so good about building with him. He's been amazing.
We're so excited to be building our dream home right now! Chad's family has been so wonderful. His dad and brother are doing our cabinets for us (they are so talented). They're also helping us, along with our other brother in law, roof our house and do the hardwood floors.
We feel so blessed to have had so much help in making sure we get exactly what we want. We couldn't be more thrilled with how this is all coming together!
Next, our other bit of somewhat exciting news. On Tuesday we had our first appointment with our fertility specialist, Dr. Cristin Slater. First off, she's amazing. All the staff at Idaho Center for Reproductive Medicine are so great. We immediately felt good about meeting. We felt so comfortable there and are excited to see where it will take us.
Dr. Slater seemed to think we have a lot of things in our favor. We're both young and healthy and I have good ovaries! Yay! She talked to us about our options including IUI (artificial insemination) and IVF (in vitro fertilization). Although these can be expensive, we're going to do whatever it takes to get ourselves a baby.
She did an ultra sound on me to check out my ovaries and what not and said everything looks great, which is good. Next we have to do another test for Chad and once we get the results back on that we'll have a better idea of where to go from here. She'll put me on Chlomid (an ovulation medication) which should increase our odds as well. All in all, everything seems to look really good. We're so glad we met with her! Like I said before, she's absolutely amazing.
While we were in the office, there were rows and rows of baby pictures- pictures that had been sent in by people who had met with Dr. Slater or another member of the staff. It felt so reassuring to know she's going to do whatever it takes to make this happen for us (even if, as shown in about 50% of the pictures, we get twins--yikes).
We have a lot of exciting changes happening in our lives right now, and although it's a bit overwhelming, we couldn't be more grateful.